The following is a quick start guide for new players to The Witness.
Looking for some guidance in The Witness, but don't want all the solutions? We've got Spoiler-Free Tips to get you on the right track when you're stuck, without giving you the solutions outright!
If all else fails, check out the Puzzle Solutions page to get some answers on the puzzles that are stumping you!
Tutorial Puzzles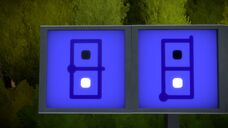 As you journey through the mysterious island, you're bound to find several puzzle panels that include odd symbols or colors that make no sense at first glance. In these cases, it's often best to leave them for later, and keep exploring until you find more basic puzzle panels that introduce new mechanics more slowly and deliberately.
Perception is key

If a particular puzzle is giving you trouble with no obvious answer, try focusing on your surroundings instead. Sometimes, a puzzle or panel is directly related to something in the enviroment, or has to do with a matter of perspective.
Multiple Choice

Not every puzzle has one solution, in fact there are many that not only have different paths and multiple start or ends points, but some can even trigger different switches. Pay close attention to puzzle panels with more than one cable connected, and see which ones light up when you solve it.
Follow the light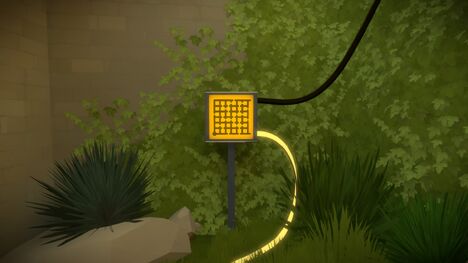 As mentioned above, when certain panels are completed, corresponding cables will light up with power. Try following these cables if you are unsure of where to go next. They'll often lead to previously disabled panels, and can even open up previously locked areas.
Audio Visual

Not every puzzle relies totally on what's in front of you. If you can't see anything relevant to the task at hand, perhaps there might be audio cues in certain areas of the island that can point you to a solution for the puzzle you're on.
Seeing puzzles everywhere

Take a close look at how puzzles are structured in The Witness. They all begin with a large circle, follow a path, and end at a half circle. Explore long enough, and you might start seeing these shapes outside of panels. You might even get something from trying to interact with these special environments.
Get Creative

Whether you're just getting the hang of things or are knee deep in the toughest puzzles The Witness has to offer, never forget that sometimes the solutions are easier to grasp when you can manipulate them yourself. Get out some notepad, cut out shapes and symbols, and go to town! You'll be surprised to find new ideas when you can better visualize strategies by drawing them out.
Know When to Walk Away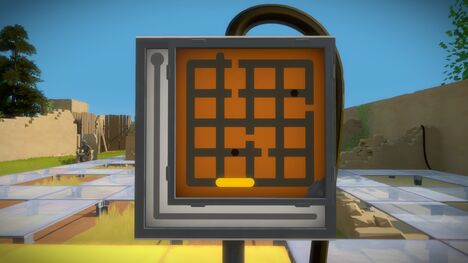 It's easy to get frustrated on some of the later challenging puzzles, and brute forcing rarely works in these situations. If you find yourself ready to punch the screen, consider cooling off and exploring another part of the island! There are so many secrets to find, you can always come back later.
100% Completion
Earning 100% in The Witness requires completion of all tutorial zones, the 11 main locations that contain lasers, optional side areas, bunker doors, discarded triangle panels around the island, The End sequence, and The Caves, which includes the timed and randomized Challenge.
That makes for a total of 523 puzzles, not including environmental puzzles hidden around the world.
But that begs the question...
How Do I know How Many Puzzles I've Solved in The Witness?

To see how many puzzles you've solved in The Witness, bring up the pause menu and click Load Game. You should see a number next to your current save. Depending on your progress, you may even see two or three numbers.
Here's the number that a 100% game file should have, as far as current players are aware of:
523 +135 +6
The first number represents puzzles solved, the second number represents environmental puzzles completed, and the third number represents obelisks completed by finding all the associated environmental puzzles.