Line 11:
Line 11:
 

Most of the puzzles in the '''Glass Factory''' and the neighboring '''[[Symmetry Island]]''' feature a second line that mirrors the movement of the one you're drawing. The key here is to try to guide both lines through a successful path on the grid without hitting dead ends or bumping into each other.

 

Most of the puzzles in the '''Glass Factory''' and the neighboring '''[[Symmetry Island]]''' feature a second line that mirrors the movement of the one you're drawing. The key here is to try to guide both lines through a successful path on the grid without hitting dead ends or bumping into each other.

 
 
−

If you follow the wire lit up by this last panel, you'll find it leads you along the cliffsides and up to '''Symmetry Island''', where it has activated the first gate.

+

If you follow the wire lit up by this last panel, you'll find it leads you along the cliffsides and up to '''Symmetry Island''', where it has activated the first gate.

 
 
−

[[File:Symmetryisland1.jpg|thumb|none|468px|Symmetryisland1.jpg]]

+

[[File:Symmetryisland1.jpg|thumb|none|468px]]

 
 
 

Move on to our '''Symmetry Island''' page for help with this area.

 

Move on to our '''Symmetry Island''' page for help with this area.

Line 26:
Line 26:
 

Head over to our '''[[Puzzle Types]]''' page for everything you need to know about the various puzzle rules in The Witness.

 

Head over to our '''[[Puzzle Types]]''' page for everything you need to know about the various puzzle rules in The Witness.

 
 
−

=== what areas should you do first? ===

+

=== areas should you do first? ===

 
 
 

*N/A

 

*N/A
---
Revision as of 17:31, 25 March 2016

For puzzle hints and solutions, see Glass Factory (Walkthrough).
The Glass Factory is a building on the cliffy beach just past the Entry Area. Unlocking the door and seeing the rows of vases inside should give you a good hint of what's to come – symmetry puzzles!
Most of the puzzles in the Glass Factory and the neighboring Symmetry Island feature a second line that mirrors the movement of the one you're drawing. The key here is to try to guide both lines through a successful path on the grid without hitting dead ends or bumping into each other.
If you follow the wire lit up by this last panel, you'll find it leads you along the cliffsides and up to Symmetry Island, where it has activated the first gate.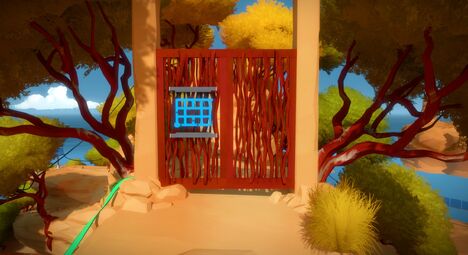 Move on to our Symmetry Island page for help with this area.

Before you begin, you should know...
Puzzle types present
Symmetry and mirrored lines
Head over to our Puzzle Types page for everything you need to know about the various puzzle rules in The Witness.
What areas should you do first?
You can easily complete the Glass Factory with no prior knowledge of other areas in The Witness.