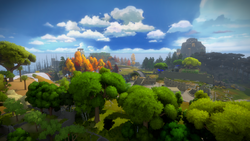 The Witness seems to be a quiet game set on a lovely landscape landmarked with puzzles.
The Witness is an exploration-puzzle game and the brainchild of Jonathan Blow. Set on a deserted island, players must solve puzzles in order to advance. Though there is a rich variety of interior settings, the majority of play takes part outside.
Limited closed beta testing began November 2012. It is expected to be released on PC, iOS, and PS4, though may also be released later on the Wii U and Microsoft's next gen console.
The Island
Main article: Island sections
Players start at a small house on the deserted island. The beginning is semi-guided to help players get used to the gameplay. Though the island itself is quite large, it will be packed with interesting areas, making it incredibly dense.
Though the island is deserted, audio recordings have been left behind by the island's architect. They do not play in any particular order, and some of them only contain musings, but they all contribute to the intrigue. Players are told they arrived on the island of their own volition, but have to solve the puzzles in order to ever leave.
Many of the buildings were later designed with the assistance of architects, giving a more realistic feel to the structures.
Puzzles
Main article: Puzzles
There will be over 400 puzzles available to players, ranging in difficulty and complexity. The puzzles are subdivided into seven groups; of those, only five need to be completed in order to reach the end.
Each successful completion of a subgroup will fire a laser at the highest peak on the island, eventually removing the force field.
Development team
Headed by Jonathan Blow, the small team consists of the following members [1]:
Ignacio Castaño
Shannon Galvin
Andrew Hynek
Andrew Lackey
Nicholas "Indy" Ray
Eric Urquhart
References